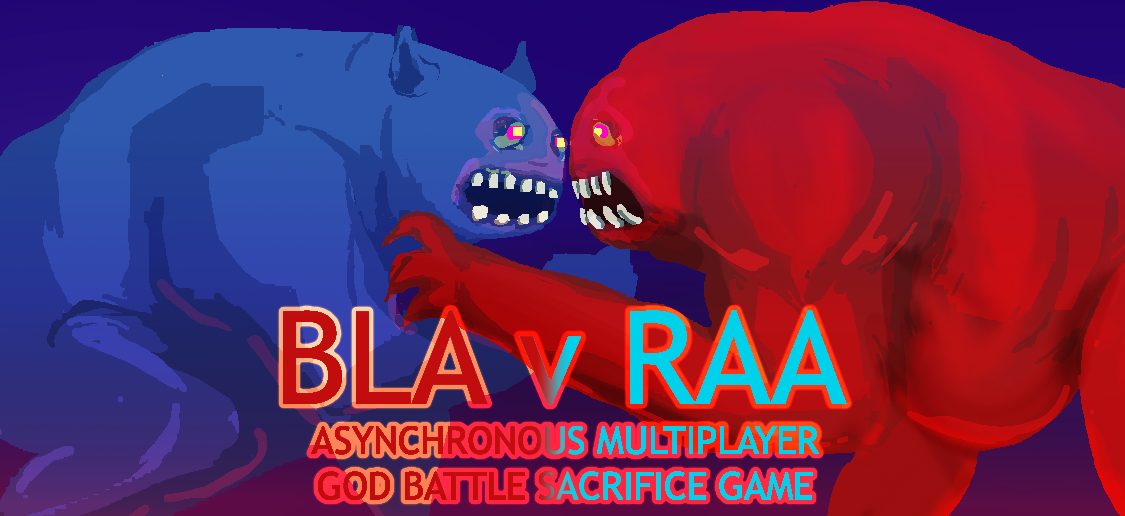 Bla v Raa : Eternal God Battle Brothers
Bla and Raa are God-brothers locked in Eternal God-battle.
Made entirely solo within 72hrs (Programming, Sound, Art)
(Actually it's a collaborative/competitive asynchronous multiplayer platformer with hats)
Choose a God and join the sacrificial flow!
Build pathways to your Chosen God's Sacrifice Holes and Deposit thyself Within.
But others may try to hinder your progress!
Asychronous Multiplayer: Every player updates the world with each sacrifice, building platforms, launchers, walls, and coins.
Controls;
Arrows : Move | Space : Jump | F : Sacrifice Self
SACRIFICE : PRESS F to SACRIFICE
Each sacrifice allows you to CONSTRUCT an Object;
Platforms (free) : press DOWN to build a platform
Coin (free) : press UP to build a Coin (and drop all coins)
Wall (1 coin) : press LEFT or RIGHT to build a wall
Launcher (4 coins) : press SPACE to build a launcher! (use arrows to set direction)
Destruct (free) : press F to detonate and destroy an object!
OBJECTIVE : Give power to your God in the eternal struggle of Raa Vs Bla by leaping into your chosen God's Sacrifice Holes
Known Bugs :
Sometimes a coin may not sync.
Syncing may not have timed out, but is slow (just wait it out)
Lines to Sacrifice Holes may not appear if out of range
Install instructions
Download and unzip.
Download
Download
BlaavraaBattleGodBrothers.zip
20 MB