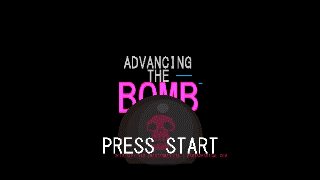 ADVANCING The BOMB
A downloadable game for Windows
Cooperative Action Game for 1-12 Players.
Made for Giant ROM 5 : A Giant Bomb theme Gamejam.
How to Play :
Work together to ADVANCE THE BOMB.
DESTROY all OBSTACLES in your path
Collect POWER to BECOME MORE POWERFUL and to POWER UP THE BOMB
Controls :
*Only supports Gamepad

Start - Join Game
Left Stick - Move / Aim / Crouch
Face 1 - Jump
Face 2 - Shoot
Face 3 - Dash
Face 4 - Power Laser
Right Trig - Crouch
Left Trig - HOLD to detonate bomb
Dpad Left - Send Power to Bomb
Dpad Down - Heal Self with Power
Known issues :
The game should support up to 12 controller inputs, but it hasn't been tested! (i only have 2)
Install instructions
Download and unzip.
Download